I'm very excited that my friend Claudia from My Adventures Across the World has contributed this guest post and pictures from her travels in Latin America. Many thanks to Claudia and enjoy!
As an Italian, I am picky about my food. I am used to eating very good quality stuff. From plain bread and sandwiches to pasta, pizza, seafood, vegetables, meat and whatnot, we are all about great quality here, anywhere, anytime. Another thing I was brought up to think is that the more you pay, the better food you will have. This is normally true in the majority of Western countries. However, in Latin America money does not necessarily translate into better food. You may pay a "fortune" (well, compared to the costs of living) and have a terrible meal, or you may grab a quick bite at an eatery in a lost bus station or a street food stall and find out that it is actually delicious. My general tip to backpackers on a budget is thus that of eating street food or in the markets: the quality is pretty much the same you will find in basic restaurants, but it is even cheaper and at times fresher.
Street food in Latin America is generally an interesting experience. In Colombia, arepas, tortillas made with white corn flour and slightly sweet, are served very hot and with whatever filling you may like (usually potato or cheese) anywhere in the street. You can also find chorizo, corn on the cob, salted corn – especially in Peru and Ecuador, freshly fried potato and plantain chips and sweets of cheese and jam called bocadillos. The latter are typical of Colombia, I once saw them sold in a Renault 4 in Bogotá for an all-Colombian experience: Colombians love Renault 4 cars for some reason, and you can see them anywhere, as well as lots of freshly cut fruit. These are chontaduros, a fruit only found in Colombia. To me it tasted more like a potato. I had mine with salt, but it can also be served with honey. A nice snack!
The only country that doesn't really do street food is Costa Rica. In all other countries, street food is freshly prepared to order: so many people eat in the street that you should not worry about having "leftovers." Furthermore, don't think that because it is street food, it is not a proper meal. You can stuff yourself on a dollar, really!
A common denominator anywhere from Guatemala to Peru is fried or barbecued meat or chicken in the street. Around sunset, ladies (called a different name in each country; in Nicaragua for example they are called "fritangas") come out to the street, put together a barbecue and start grilling meat, which they serve with corn tortillas (in Guatemala and Honduras, where they are always freshly baked: it is not uncommon to see ladies cooking tortillas at about any time of day) or gallo pinto. Gallo pinto is a blend of sautéed rice and beans that is a staple in Nicaragua and Costa Rica and can be served with any meal – it is particularly good when it has coconut milk (like on the east coast of Costa Rica with its strong Jamaican influence).
Patacon is another staple. These fried plantain croquettes are a must from Nicaragua to Colombia (they can be thick or thin). Fried chicken is available anywhere. Latin Americans apparently love it. They may call it "pollo frito", "pollo a la broaster" or other names, but the concept is always the same: chunks of chicken, bones and skins included, breaded and deep fried. I could smell it everywhere. Food in Panama was often bad – even on islands where lobster can literally be grabbed if you jump in the water I could not find anything other than chicken and patacones. A welcome exception was the fresh seafood I had in the Mercado de Mariscos in Panama City.
Food in Latin America is available anywhere, anytime. Seriously. You may be sitting on a crowded local bus and several ladies will jump on and sell whatever you may want: from plantains to soft drinks, from water to sweets, from ice cream to candy. What I found unique to this part of the world were the drinks and sweets sold in plastic bags. You make a small hole in the bag and suck your drink from there.
Food in budget restaurants can be monotonous. The most common offerings are chicken, potatoes, plantains and rice. It is really hard to find vegetables or fruits on a menu. I found this really strange, as there is a huge variety available and the fruit at the market is quite delicious. In Colombia, soup came with any meal, and if you are not a big fan of "sancocho de gallina" (chicken soup with potatoes and whatnot in it), you should ask for your meal "seco" (literally, "dry").
Whenever I had a properly equipped kitchen in a hostel, I cooked for myself, despite the fact that finding some of the ingredients would be a challenge. Pasta – which is possibly the cheapest food in Italy – is expensive. Where you can find bread, it tastes odd to bread eaters like Europeans. For example, in Colombia it is sweet and is made from butter and eggs, almost like a croissant (but they serve it with eggs, at breakfast). It is kind of funny to hear the waiters ask if you would like any pancito (little bread) with your huevitos (little eggs) together with jugito (little juice) and cafecito (little coffee) – then you find out that when they say small or little, they do mean it!
At times, when I had no kitchen and I was desperate for vegetables, I went to Chinese restaurants and ordered white rice and cooked vegetables. However, unless the restaurant is at least decent, rice gets contaminated really easily and this has led to some sorry episodes. As for the rest, I often relied on chicken of varying quality. I became an expert on chicken and potatoes: I can tell if they are freshly made or microwaved, too!
In Colombia I was really lucky and had freshly cooked lobster and crab just caught by a fisherman, which were delicious and very cheap.
The drinks I encountered were great. All over Central and South America, juices are delicious. I have tried guanabana juice, lulo juice, maracuja juice and other mixed juices. Not to mention even plain limonada or jugo de pina. I miss them here in Europe where I am forced to have that sad juice from a carton.
Of all the countries I visited in my six months of travelling from Guatemala to Peru, I must say that Peru easily wins the prize for the best food: internationally renowned chefs, fusion cuisine, fresh produce, delicious meat, fish, ceviche, Asian food and even pizza and pasta. All of these dishes presented excellent quality, even at budget eateries. In Peru you can really have a feast!
An Italian human rights lawyer, animal lover and academic, Claudia is more than anything a traveler who craves to see the world. Last November, she decided that it was time to live and embarked on a six-month trip through Central and South America, which changed her life and gave her the final input to live as a writing nomad. Her mission is to let people dream through her travels, providing guidance and inspiration to other backpackers. You can follow her adventures through My Adventures Across the World and her Facebook page.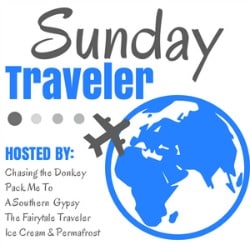 I'm linking up with #SundayTraveler this week – head over to my friend Adelina's blog to read her post on how to be a tourist in your own city.